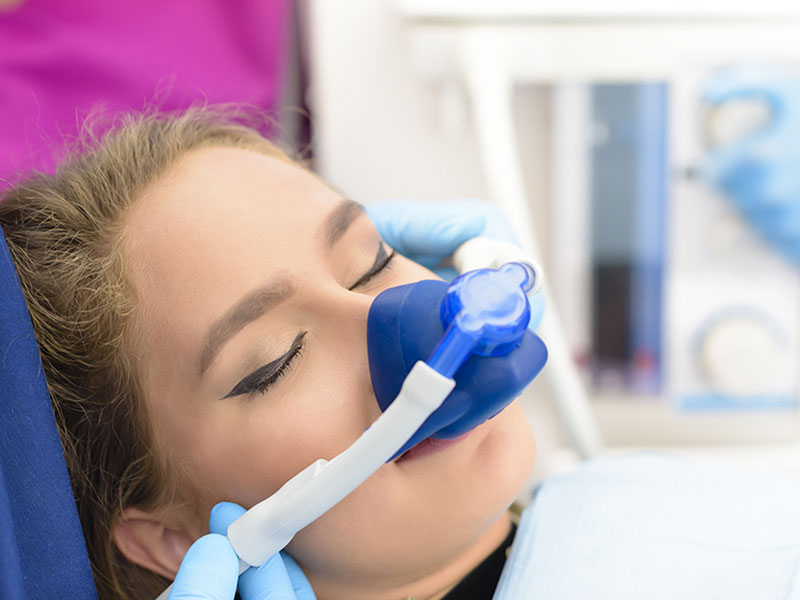 Sedation dentistry is a field within dentistry that is focused on the use of sedative medications to help patients relax during procedures. Some patients experience dental anxiety, which can make getting necessary dental care difficult. Sedation dentistry can help ease dental anxiety so patients can get the care they need. 
What different types of sedation dentistry are available?
During your dental appointment, your dental team will likely go over your sedation options. They may recommend one type over the other depending on the procedure you're having done, your current level of anxiety, and any allergies you may have.
Here are some of the different types of sedation dentistry:
Oral sedation:Oral sedation is the use of a pill, sometimes called a sedative pill, to induce a calm, relaxed, and drowsy feeling. Oral sedation can also help people with dental anxiety. However, oral sedation doesn't really put you into a dreamlike state, so you will still be somewhat aware of the procedure and your surroundings. Oral sedation is a good choice for minor procedures, such as repairing a chipped tooth, or for procedures that only take a few minutes.
Nitrous oxide:Laughing gas, or nitrous oxide, is a sedative that is administered through a nose mask. Laughing gas is often considered to be a mild form of sedation because it wears off quickly. The gas is administered through a nose mask because it is directly delivered to the bloodstream. As the gas reaches the brain, the body begins to produce feelings of euphoria.
I.V. sedation: Intravenous (I.V.) sedation is administered intravenously and is designed to put patients into a sleep-like state. Patients typically don't remember much, if anything, regarding their dental procedure, and because patients remain in a sleep-like state, they also don't experience anxiety.
Deep sedation:Deep sedation is a type of sedation that puts you in a state of unconsciousness. Patients are conscious enough to respond to verbal cues but may remember little of what happened during their procedure. This is used for complex procedures, such as oral surgery or root canal therapy.
General anesthesia: General anesthesia is also known as "sleep dentistry" because it puts patients fully to sleep. Patients receive this sedation option with assistance from a nearby anesthesiologist. With general anesthesia, patients are completely unconscious during the entire procedure.
Is sedation dentistry right for me?
There are many reasons that someone might choose sedation dentistry. Some common reasons include:
Fear of the dentist
Sensitivity to pain
Difficulty sitting still for long periods of time
An inability to cooperate with the dentist
High anxiety
Your dentist can help you determine whether sedation dentistry is the right option for you.
Is sedation dentistry safe?
Yes. Sedation dentistry is safe when administered by a dental professional. With sedation, dentistry is much more comfortable, and patients are more likely to get the care they need.
What are the benefits of sedation dentistry?
Sedation dentistry can help you overcome dental anxiety, which prevents you from getting the dental care you need.
You can feel completely at ease during your dental procedure with sedation dentistry. Your dentist will make sure you are properly sedated before treatment begins.
Please schedule an appointment online or call us at (480) 838-8558 to have a consultation with Dr. Christopher Payne, and we will be happy to help.